SpinGreen Turns New York City Green: TextileWorld

In the one year SpinGreen has been in business, it has diverted well over 3 million pounds of textiles from landfills, and has donated more than $100,000 in cash and clothes to charitable organizations. There are 600 locations in New York City where textile products may be dropped off.
Polina Groman, CEO and founder of SpinGreen, said the idea came from a friend in England, where used merchandise is recycled. "I then discovered that throughout Europe there is much more awareness of sustainability than there is in this country," she said. "I think that attitude is changing, partly through SpinGreen."
SpinGreen takes textiles others turn down. What is reusable is donated to charitable partners. What is not is recycled for other uses such as housing insulation or car seat stuffing. Children's clothing is one area in which there is an enormous turnover — a lot is very slightly worn, and some is nearly new. "In New York City, people live in apartments and don't have a lot of storage space," Groman said. "They are looking for a good way to donate merchandise."
Textiles that are not reusable are sold. Some proceeds are given to major charitable organizations such as The Police Athletic League, American Red Cross and Gay Men's Health Center. Other proceeds are used for SpinGreen's other philanthropic initiatives, including after-school educational programs. "By working with schools and boys and girls clubs we are teaching positive attitudes toward recycling. This helps to bring in more used merchandise and to create awareness," Groman said.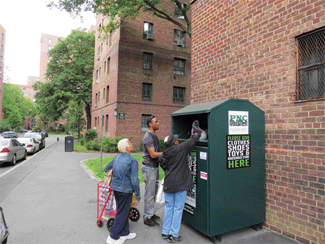 New York City residents may deposit used textiles in collection bins provided by SpinGreen, which recycles the textiles for reuse or for conversion for insulation, stuffing or other uses.